Rock the Lot is our lineup of outdoor summer events for 2022. All events are held at First Covenant Church of Saint Paul.
COMMUNITY SAFETY NIGHT
Tuesday, June 28 from 5:00pm - 7:00pm
Dinner, activities, and help from our community resource officers with Saint Paul Police Department. Discover how you can be safe and a good neighbor this summer.
PARTNER WORSHIP SERVICE AND POTLUCK
Sunday, July 10 at 10:00am, potluck following
We're joining with our partners Followers of Christ Hmong Baptist Church, the Haitian Christian Fellowship, La Iglesia de St. Paul, and Family Values for Life in a collaborative and celebrative worship experience. We're taking the gathering outside as we share in faith and life together in worship and over a meal as we share a potluck lunch together.
TRANSIT AUTHORITY CONCERT
Thursday, August 11 at 7:00pm (food begins at 6:00pm)
Transit Authority has become known throughout the U.S. as the premier tribute band to the iconic group Chicago. Based out of Saint Paul, this eight member ensemble (including friend of FCC, Barry Patrick) creates an accurate musical salute to the greatest horn driven rock band to ever hit the stage. Transit Authority's mission is to recreate the excitement of the original Chicago's sound with each and every performance (minus the cracks and pops of the vinyl!). We'll have food trucks and great music!
CHILDREN'S MINISTRY OPPORTUNITIES
questions? CONTACT LORA MURTHA
all events are at first covenant church of saint paul
SUMMER READING ACADEMY (K - 5TH GRADERS)
Mondays - Thursdays from June 20 - August 11 @ 8:30am - 12:30pm
Looking to avoid the slippery slope or summer slide? Join Family Values for Life's Summer Reading Academy. This 8-week camp supports and enhances your child's reading skills. Fun and learning go hand-in-hand this summer.

SUMMER READING ACADEMY REGISTRATION here
TODDLER MONDAYS (BIRTH - PREK)
Monday June 27, July 11 & 25, and August 8 & 22 @ 10:00am - 11:00am
Summer is here and so are Toddler Mondays! The Bible is fun with friends, crafts, songs, and activities to bring it to life. Children will gather with their adult while we explore the Bible and grow in faith together in age appropriate ways.

DISCOVERY CAMP (K - 5TH GRADERS)
Monday, July 25 - Thursday, July 28 @ 2:00pm - 5:00pm
Thursday, July 28 @ 5:00pm - Dinner and Camp Celebration
Calling all explorers! Get ready to investigate and discover more about who you've been created to be, Jesus' great love for you, and how you can care for our community and world. When we come together in faith and community, there's no telling what we'll discover! Join us for a 4-day afternoon camp of age appropriate activities, fun games, snacks, and Biblical teaching from trusted leaders and helpers. It's fun when we discover together. Youth! There's a place for you too. Our 6th-12th graders are excellent volunteer leaders. Stay tuned to hear more about how you'll be able to be involved.
Registration forms are coming soon. Click the box below to get on our mailing list to be the first to know!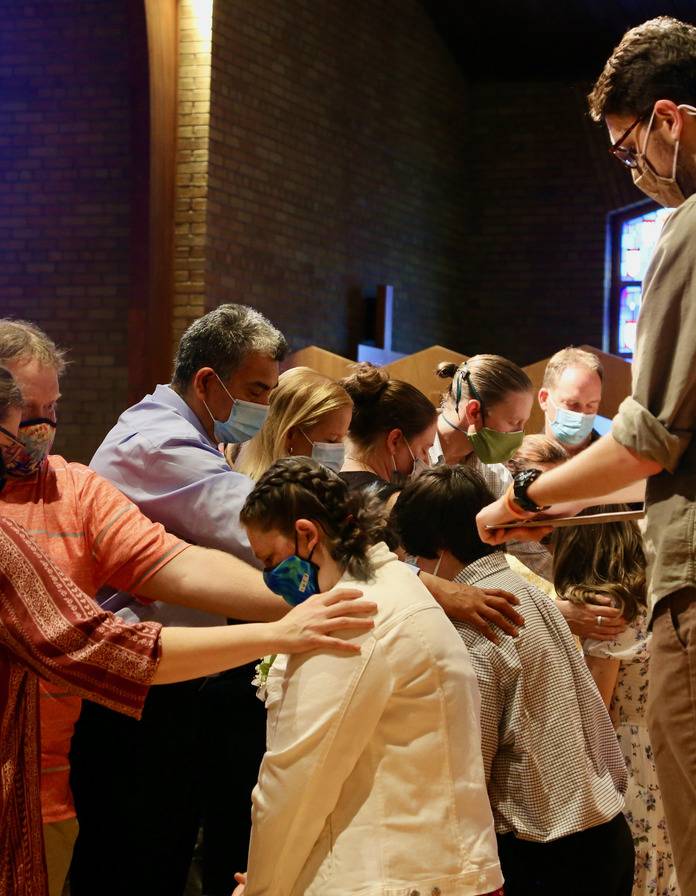 YOUTH MINISTRY OPPORTUNITIES
questions? CONTACT AARON NOSICH
all events are for 6th - 12th graders and take place at first covenant unless otherwise noted
EAST SIDE YOUTH NIGHTS
Sundays June 12 and July 10 @ 6:00pm - 8:00pm
(location: Beloved UMC, 1965 Sherwood Ave.)
Thursdays June 23 and July 21 @ 6:00pm - 8:00pm
(location: First Covenant Church)
We are gathering with other East Side youth ministries for fun and learning together. We'll be building on relationships that began with the After School Program and our Lllovable Llama event and this summer we're connecting and growing with other youth. Registration is encouraged, but not required.
REGISTER FOR EAST SIDE YOUTH NIGHTS HERE
FCC YOUTH TO BATTLE CREEK DOG PARK
Thursday, June 16 @ 1:30pm - 3:00pm
Battle Creek Dog Park (2350 Upper Afton Road, Maplewood, MN 55119)
Youth and families - bring your pups for play and community time! No doggo, no problemo. All 2 and 4 legged friends are invited for a fun afternoon of laughter and building relationships together. We will meet in the first enclosed area from the Upper Afton Road entrance. Let us know you're coming!
REGISTER FOR FCC YOUTH'S DOG PARK DAY HERE
MCVAY SUMMER PARTNERSHIP
Mondays and Wednesdays from July 11 - August 10 @ 3:00pm - 6:00pm
There's no excuse to be bored this summer. Through our unique relationship with McVay Youth Partnership at Hamline University, First Covenant is a hub for FCC and other youth groups to connect for fun and adventure this summer. We'll gather in the Den at First Covenant and then head out on field trips to local museums, parks, community events, and more. Transportation to FCC can be provided for youth living on the East Side and all transportation for the field trips themselves is provided by McVay. Download the registration form below to register today. Questions? Contact Jane Krentz, Director McVay Youth Partnership.
DOWNLOAD MCVAY'S REGISTRATION FORM HERE
ADVENTUROUS CHRISTIANS
Tuesday, July 12 - Saturday, July 16
9th - 12th graders experience a wilderness canoe adventure in the Boundary Waters this summer!
LIFEGROUPS
LifeGroups are one of the ways that we grow in community together at First Covenant. This summer LifeGroups are relaunching. It's the perfect season to try out a new group before making a commitment in the fall. Discover more information and sign up to be placed in a group at the link below.
LIFEGROUP INFO AND REGISTRATION HERE
SUMMER BOOK STUDIES
We're gathering this summer over books and conversation. Join us at one or more of our gatherings at people's homes! Sign up at the link below to let us know you're coming.
Charles Lindbergh: A Religious Biography of America's Most Infamous Pilot by Christopher Gehrz
Thursday June 30, July 21, and August 18 @ 6:30pm
Pastor Anne and Gordy's home
Have you ever wondered what's below the surface of our cultural and national icons? Local author, professor, and friend of FCC, Chris Gehrz has done a deep dive on aviator Charles Lindbergh. Lindbergh spend much of his adult life reflecting on mortality, divinity, and metaphysics. In this short biography, we see Lindbergh as he was -- neither an adherent nor an atheist, a historical case study of an increasingly familiar contemporary phenomenon: the "spiritual but not religious." Chris Gehrz will join us for our discussion in June and August.
That All Shall Be Saved by David Bentley Hart
Wednesday, July 27 @ 7:00pm
Joe and Paige Mann's home
How do we hold thee two theological concepts in tension with one another: the existence of Hell and the goodness of God? With great rhetorical power, wit, and emotional range, Hart offers a new perspective on one of Christianity's most important questions. Pick up the book early this summer and slowly digest it ahead of our conversation.
Wholehearted Faith by Rachel Held Evans, with Jeff Chu
Wednesday, August 17 @ 7:00pm
Kate and Dan Makosky's home
Rachel Held Evans was one of those voices in the wilderness who validated that it was okay to have questions about faith and religion. Begun before her untimely death, and completed posthumously by Jeff Chu, through theological reflection and personal recollection, Evans wrestles with God's grace and love, looks unsparingly at what the Church is and does, and explores universal human questions about becoming and belonging. An unforgettable, moving, and intimate book.